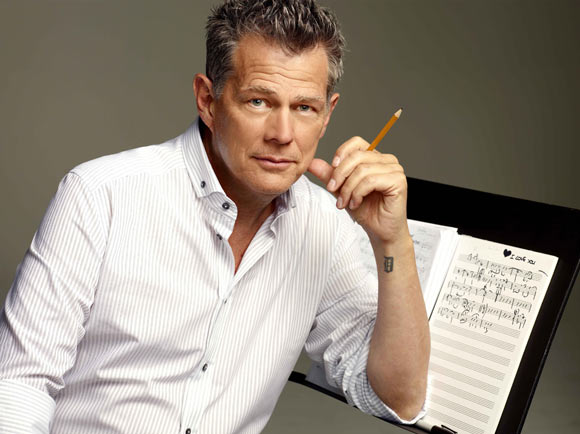 David Walter Foster is a Canadian Producer, Composer, Vocalist, and Arranger. Foster is famous for his collaborations for record breaking artists including Michael Jackson, Madonna and Celine Dion.
David Foster was born in Victoria, British Columbia, Canada on November 1, 1949. He began experimenting with the piano at the age of five. At the age of thirteen, Foster was a comfortable piano player and he later joined the music program at the University of Washington.
Foster's professional career started in 1971, when he became a keyboardist for Eirik Wangberg's band Skylark. Foster's impressive keyboard skills were noticed by many, later on in his career it even helped him record with extremely popular artists such as John Lennon and Rod Stewart. In 1973 Foster shot to prominence when his band's single "Wildflower" edged out a place in the Top Ten Ratings. However, Foster soon turned to projects outside his band. His first such endeavor was producing the self titled album from the group "Attitudes" in 1976. Then, in 1979, Foster appeared on the global stage when he won a Grammy Award for Best Rhythm and Blues song for "After the Love has gone" performed by "Earth, Wind and Fire". The song was also nominated for two other categories. Foster won his second Grammy in Production for producing the cast album of the Broadway show "Dreamgirls" in 1982. Foster then worked with "Chicago", a band that was looking to rekindle the fire that helped them become one of the greatest rock and roll bands in American History. His collaboration with them for Chicago's 17 and for the single "Hard Habit to Break" helped him win the Grammy Award for Producer of the Year in 1985. In 1988, he worked with legendary songwriter Neil Diamond to produce "The Best Years of Our Lives". He also made his name for his arranging skills in the late 1980's, when he arranged Barbra Streisand's single "Somewhere" in 1987. In 1992, Foster produced the soundtrack for Whitney Houston's film titled "The Bodyguard", which ended up being certified platinum multiple times. In 1992 Foster won his second Producer of the Year Grammy Award, together with awards for Album of the Year and Record of the Year for Natalie Cole's "Unforgettable". Foster was also chosen to write the official theme song for the 1988 Winter Olympics and for the 1996 Summer Olympics.
His collaboration with hit artist Celine Dion also helped with his popularity. He produced plenty of Dion's bestselling albums; the 1993 hit "The Color of My Love" and the 1996 release "Falling into you", in addition to Dion's Christmas record of 1998, titled "These are Special Times".  Foster also founded his own label, which he called "143 Records". With 143 Records, Foster produced the debut albums of future multi platinum artists such as Michael Bublé and Josh Groban.
Foster released a total of ten solo albums. Of these, the 1983 album, titled "The Best of Me" was his first. His 1993 record titled "The Christmas Album" and his 2008 record "Hit Man: David Foster and Friends", also received plenty of attention.
David Foster currently serves as the chairman of the Verve Music Group. In his phenomenal career, he amassed sixteen Grammy Awards amidst forty seven nominations. He also has a Hollywood Walk of Fame star near the Capitol Records Building.